March 04, 2020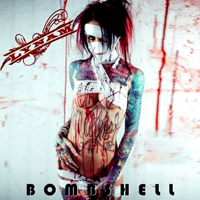 The title track begins the Lynam - Bombshell release, energetically and sonorously raising the vocal experiences to the top of the waves of the musical sea with musical passages, complementing the guitar riffs with echoes of electronic samples - as if combining musical eras with an invisible thread.
The sound of the starting motorcycle divides the compositions, then Flick My Switch (You Turn Me On) as if continues the mood set by the title composition, introducing a whirlwind of emotional experiences with vocal phrases entwined with the energy of musical passages.
Setting the emotional mood of rebellious romanticism Send You Back captivates with an energetic and driving ballad, approaching a musical presentation to a rhythmic mid-tempo march. The Worst in Me continues this style, somewhat accelerating the pace and tightening the sound. However, the vocals in the couplet bring shades of mystery and intriguing anticipation.
The throbbing doubts of an intriguing mystery weave the musical lace of the What's Left introduction, ending the album with vocal phrases wrapped in strings of musical accompaniment, which vocal breaks in the chorus, raising the banners of its significance to the sparkling of the sun's rays.