July 22, 2021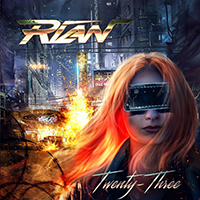 Entering the with bass solo, the Stop song begins the musical narration of the Rian - Twenty-Three album by vocals inspiration with the support of the chime of melodic music passages. The In The Dark composition combines musical artistry with a mystical atmosphere of an ancient fairy tales. The fascinating ballad Where Do We Run continues musical inspiration with melodious thought.
The Twenty-Three title composition sets the mood of readiness to change, the fattened medium-dimensional march on the verge of sparkling musical melodies, which is at the top of the musical image of vocal inspiration in the chorus. The For Your Heart song continues the musical narration with the fascinating ballad, complementing the main vocals with background choraces of musical brothers-in-arms. Somewhat accelerating the musical pace, the We Belong composition retains melodism, complementing and completing the musical majesty by keyboards passages. The My Ocean weaves the musical lace of the majestic anthem, dividing the musical web of the main vocal and background chorals.
The Body And Soul track combines the melodious charm of the guitar solo with vocal emotionality, uniting this unity into charm of the musical image. The Passenger gives his speeches by the vocal party to the foreground of the musical image. Combining music and vocals in the exciting dance, the Stranger To Me again and re-emphasizes its name. The Your Beauty song completes the album with the charm of beauty in a romantic ballad.