January 21, 2022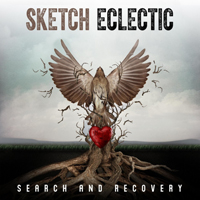 The emotional experience of the singing lady starts the musical narration of the Sketch Eclectic - Search and Recovery album with the title track, alternating and combining with the melodic charm of the guitar solos and supplementing the vocals parts with the charming melodism of the musical passages. The Singin' Stones song continues the musical narration with soft vocal reflections of the singing lady, supplemented with unhurried symphonic musical passages. The Becoming Velveteen completes the sounding of the album with lounge with the echoes of soft jazz, creating the background for the vocal reflections.
Rolling with waves of energetic freedom the Drive song inspires to move forward, after which the Right Before My Eyes composition somewhat restrains the impetuosity of advancement with romantic symphony, followed by sad Thieves of Our Dreams ballad, charming with soft and charming sound of female vocals, continuing in the Portraits Rearranged and Tear in Her Voice compositions with similar stylistic ornament, giving a little more importance to the vocal reflections of the singing lady, continuing in the intriguing mystery of the Rise ballad.
Thunder, blizzard and some vocal mystery of the When Breath Becomes Air composition create an epic atmosphere of a medieval fairy tale, which continues with The Bluebird Song soft and tender meditations, combining keyboard artistry and vocal tenderness. The sound of the Belle in the Jar song brings to the album some echoes of country-style, anticipating the Selfless (Nancy's Song) final composition, charming with its symphonic keyboard solo.