August 24, 2021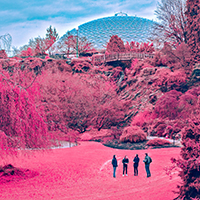 The Molotov Girls song marching a leisurely pace along the path of inspired reflection, whirling the vocal phrases by sparkling ribbons of guitar and keyboards variations. The title composition continues the The Zolas - Swooner album's musical narration, following the laid freedom-loving majority path.
After musical passages of entry, the Get Dark composition assumes the vocal batch of the chorus into unattainable transcendental dashes. Vocal phrases immediately go to the forefront of the musical image of the Fell In Love With New York romantic ballad. The Cv Dazzle composition the dominance of the vocal component in the musical essence, but introduces the shades of the contention to rhythmic musical passages.
Rolling the waves of the uncompromising drive, the Invisible song crowds these musical waves by vocal doubts and reflections. The Freida On The Mountain composition slowly and significantly marching the chosen musical path, then the Male Gaze song envelops vocal reflections by the sparklers of musical artistry. The This Changes Everything track is slowly marching in the twilight haze of mystical mysteriousness. The Why Do I Wait (When I Know You've Got A Lover) ballad completes the album with the musical inspiration of the acoustic guitar, intertwined in the dance with vocal reflections.