February 15, 2021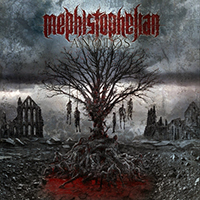 After a gloomy haze, the Abysmal Discorded Endeavourcomposition explodes with a fierce fury of complex musical variations, flying in the rapid flight of a progressive musical blizzard in anticipation of the entry of vocal severity. The A Void Reminiscence song continues a similar musical stream in the intro, with the introduction of vocals varying the musical tempo and embodying the artistic expectations of the Mephistophelian - Anotos album.
The guitar solo of The Purge intro swirls like a swarm of fireflies, but then the musical austerity envelops the vocal phrases with its veils in the majestic darkness of the musical tunnel. The Primal Un-Godliness bursts into an unrestrained stream of frantic drive, thrashing with a furious rhythm topped with a deep growling of vocals. The brooding intrigue of the guitar solo of the Omnipotent introduction sets the path for the formation and procession of the main motive, combining musical and vocal rigidity with the atmosphere of an epic saga.
The sound of rain and echoes of bad weather accompany the harsh echoes of ancient legends, embodied in the epic mystery of musical motives of the Flesh Canvas introduction. But then the vocals carry away with their phrases the acceleration of the tempo in the frantic musical stream of drive. Again, the beginning of the Without Contingent Of Prosperity composition creates the mysterious echoes of a harsh fairy tale, but then soars into the acceleration of an unbridled musical thriller.
Immediately exploding in a furious whirlwind of deadly dance, the Shroudslice chases in unrestrained rage to unknown discoveries, sometimes getting bogged down in guitar thoughts with deep vocal reflections. Whipping up the waves of a mid-tempo battle march, the F.E.A.R. then accelerates the sound of the battle saga into a rapid frenzy, sometimes holding back the tempo with instrumental bridges. Drum rolls open the gates to the furious race of the Violation Of The Mind final composition of the album, pacifying the speed with the importance of vocal phrases.