February 03, 2022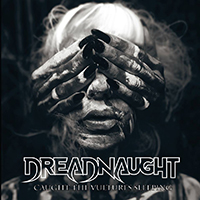 On their fine Dreadnaught - Caught The Vultures Sleeping release, the australian band dig deep into their arsenal and unload with every piece of firepower they have at their disposal.
Starting with the Pure Lunacy song that band's music calls back to the very first track of their still awesome debut, a sludgy long slow-burn that suddenly unleashes a controlled, venom-spitting rage and Dreadnaught is just as potent as they have always been – perhaps even more so. The Hated track bristles with scintillating guitar melodies flashing across dark, growling riffs, weaving among the powerful roar of vocals.
In the Welcome To Oblivion and the Caught The Vultures Sleeping title track musical compositions tensions pile onto one another, suddenly breaking for gentle acoustics, a twisty guitar melody and a deceptively quiet vocal reading that builds toward an explosion reminiscent the Collapse song's music from the previous band's artwork.
The acoustics come back throughout the brooding Set Fire To The Plan; both Aim To Destroy and Clenched Fist are fired-up stompers that expose the 80s thrash and hardcore that lie at band's roots, but neither are straight-forward, each taking their own progressive wanderings before reverting to their original path and guitars delivers a towering solo in the second half of the former.
The album reaches its pinnacle with the final cut, the meandering progressive epic Warning Signs track that swirls from tranquility to artistry of guitar harmonies and descending riffs, through another winding guitars solo and into a gentle extended close out.