February 02, 2022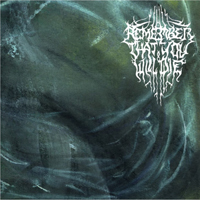 The dreary meditations of the Despoliation song roll out the twilight mystery of the development of the dusky musical haze then harden with musical severity and vocal emotionality and leisurely roll out the covers of the musical canvas of the Remember That You Will Die - Remember That You Will Die album, carefully and thoughtfully developing its musical features and revealing the emotional shades of its content.
An intriguing introduction wraps the listener with echoes of folk notes, then the music and vocals fully embody the musical mystery of the Landschaft composition.
In the sound of the Exultation musical saga, the longest and most versatile musical tale of the album, the music and vocals embody an incredible variety of stylistic branches - starting with an intriguing mystery, then bringing the union of folk motifs with echoes of indie and post-rock ... or vice versa - everyone will perceive these musical variations in their own way. It is worth noting that this song composition appears as a separate musical artwork, embodying in its sound the multifaceted perception and artistic shades of musical creativity.
After an intriguing and twilight beginning, the Estuary musical mystery ends this release with rhythmic and confident pulsations of an assertive march after an explosion of rebellious drive topped with a keyboard symphony.