April 22, 2022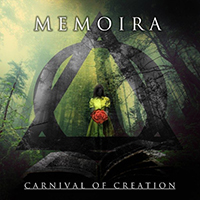 The gentle melodies of the singing lady bring to the sound of the Dawn of Time composition the trends of sublime romance, then developing these musical directions in addition to a restrained pulsating drive and bright guitar solos. The title track, with a sparkling drive, continues the Memoira - Carnival of Creation album then brings the vocal part to the forefront of the musical image with spicy notes of oriental motifs, wrapped in the charm of symphonic sound.
The epic symphony rolls in waves of intriguing anticipation, then brings to the sound of the Queen Element musical fairy tale the refinement of the mysterious charm of female vocals and shades vocal phrases and musical variations with harsh growling. The Hunter's Moon musical saga brings elements of valiant battle songs to the album's sound, complementing them with vocal charisma and embellishing them with melodic musical solutions.
The intriguing mystery of the Dark Passenger twilight symphony develops into a majestic sound with pensive vocal reflections, then fascinated by the sparkling keyboards pulsations of the mystical sound of the Shooting Star composition. In the instrumental part, the melodic motifs of Celtic folklore are fascinating.
The introduction with a brooding keyboard solo prepares the basis for the further development of the Snowglobe majestic anthem with the ascension of vocal inspiration to the top of the sound, anticipating the Crimson Bride Symphony brooding musical composition that completes the album with a unity of contrasts in its sound.