April 29, 2022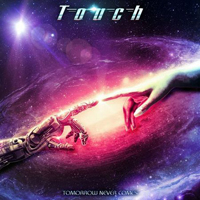 The captivating musical motifs of the Touch (USA) - Tomorrow Never Comes album's title track kick off the album with a captivating flow of music topped off with meaningful vocals lyrics. The Let It Come song brings the vocal part to the forefront of a rhythmic musical march. The Swan Song romantic ballad in a long musical tale captivates and captivates with artistic and melodic musical passages.
The disturbing musical twilight of the Try to Let Go composition gives the sound a spicy atmosphere of the wild west prairies with notes of epic motifs. The guitar solo of the intro sets the direction for the development of the musical procession of the Fire and Ice main motif, pressing with sound to indicate vocal significance. Notes of romanticism in the sound of the Trippin' Over Shadows composition bring a breath of youth memories and romantic echoes of the music of the 80s. The artistic keyboard suite weaves a charming musical lace, which then envelops the Frozen Ground song's vocal part in a romantic inspiration of a musical procession. The Lil Bit of Rock'N'Roll composition embodies the sound that fully corresponds to its name to the fullest extent, again returning to romantic thoughts in the thoughtful sound of the Glass ballad.
The vocal part of the Scream at the Sky composition brings to the album an atmosphere of spirituality and thoughts about destinies and faith, embodying further musical celebration in the inspired and joyful sound of the Wanna Hear You Say song, which sets the direction for the development of the musical style of the Run For Your Life final composition of the album.