April 28, 2022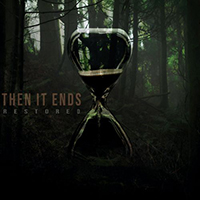 The stern and gloomy Depravity introduction rolls out a musical canvas of solemn inspiration, along which changeable and open-minded vocal reflections then run in variable rhythm. The Addiction song continues the Then It Ends - Restored album's musical narrative, bringing vocal discussion to the forefront, in which the dreamy melodies of clean vocals dominate the chorus.
The dreamy sound of vocal reflections envelops the listener in whirlwinds of charm, complementing the impression with the captivating sound of the Reality ballad's musical tale. The Kingdom composition combines romantic musical sound and vocals phrases with whirlwinds of furious drive in a mesmerizing unity of musical contrast.
The enchanting melodism of the romantic guitar solo serves as the Silent instrumental introduction to the next chapter of the musical novel, which unfolds the musical canvas of the Welcome Home solemn epic anthem, raising the inspiration of the vocal narrative to the crests of musical waves. Thoughts of wise vocals are intertwined into the bewitching sound of the Despised musical fairy tale, intertwining the vocals narrative with enchanting musical covers.
After an intriguing musical mystery, the Darkness composition builds a musical essence on the basis of a dispute and an alternation of vocals styles. Enchanting with an introductory guitar solo, the Restored album's title track raises the banners of inspirational melody of the Failure solemn procession, anticipating the rebellious explosion of fierce vocal fury and the final musical stream of the Desperation furious musical thriller.