April 29, 2022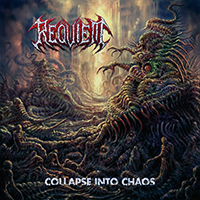 The power and furious unity of the vocal fury will unite with the vocals in the Fade into Emptiness unity of the fury, anticipating the bright and impressive musical fairy tale of the Requiem (CHE) - Collapse into Chaos title track of the album. A furious guitar solo anticipates the Mind Rape main motive, then joins the music in a single whirlwind of frenetic drive. The Down to Zero composition rolls in waves of harsh solemn influence and significant vocal narration.
Painfully, gloomily and solemnly, the All Hail the New God composition rolls out its musical canvas. The Only Empty Words Remain composition brings the vocal part to the forefront of the musical image.
Recklessly elevating its opinion to the top of the musical sound, the Progress to Collapse song complements the vocal moments with musical passages. The Progress to Collapse composition rolls with a unity of drive and epic melody. Melodically and rhythmically driving in the Ivory Morals musical variations, music and vocals are combined in a bewitching unity of artistic sound, hardening the sound in the Out of Sight, Out of Mind fury of the unrestrained drive of the New World Dystopia composition ... the romantic additions of vocals should be separately noted ... ah! There is nothing to add here! Well, I don't know about you - but listening to the World Downfall (Outro)... I'm only waiting for... the next albums of the band!