September 30, 2016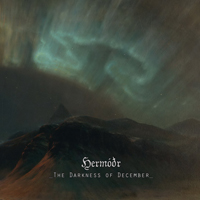 Blizzards noise returns to us a lot of memories about Hermodr - The Darkness Of December from afar!
The gloomy atmosphere shrouds from all sides, Skogshjarta takes us into the depths of darkness, where from all sides piled ominous shadows, bringing an inexplicable fear and terror.
In the depths of darkness and horror of the Djupa Gravar tomb emerges hopeful motif that pervades space composition with squealing guitar riff. Then an encouraging motive manifests itself in the keyboard passages, but not letting hope to switch streams of consciousness totally.
Putting on the strings sound picture, A Path Made Of Ice leisurely walks on the icy road, slowly and with no hurry. Then, keyboards notes adds in the gloomy atmosphere of guitar riffs, creating a melody with dense guitar sound.
Sista Skymningen embrace all of us with veil of darkness, covering by melancholy keyboard passages and dark guitar riffs. Heavy and sad memories are revived from the depths of the mind, coming to the surface of consciousness and shackling will to live.
Any actions will provide a result, furious and persistent sound of the Efterdyningar may be the result of gloom and despair, focused response to despondency.
Dark atmosphere of guitar riffs during the Ingenting Finns Kvar brightens and diluted by dreamy and exalted keyboards, ascended up thoughts from sad and creepy frozen horror.
Violin, guitar fingering and keyboards constitute intro of the Den Som Stod Sa Nara then in the twilight obsessive and atmospheric guitar parts keyboards notes outputs the main motif to the fore.
Romantic instrumental ballad Lost outlines in guitar fingering the leitmotif of the entire album with keyboards parts.
The title track The Darkness Of December completes the whole album, summing up the results of the darkness and despair around us.