July 18, 2020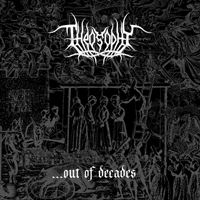 The ringing of the bell sets the cemetery atmosphere of the introduction starts the Theosophy - ...Out Of Decades album, but then the vocal part indicates the path of development of At Last Sunrise composition, enveloping its phrases in a solemn shroud of majestic twilight and sometimes retreating before the swift drive of musical unrestrainedness. Dancing a playful round dance of musical passages, the Where Fires Burn wraps around the mid-tempo procession of vocal narration with echoes of oriental motives.
Expanding the stylistic framework of musical sound, the Powercrush Of Life Canons addresses the earlier masterminds of black metal, flying in a swift assault on the dark army. Slowing down the pace of musical narration For Cold brings in the influences of northern folklore and Celtic motives. The Forest Legion explodes again with whirlwinds of furious drive, but retains the shades of folklore motives. Slowing down the musical tempo, the Damnation Of Northern Lands walks the mid-tempo paths of an epic battle march, complementing the musical and vocal elements with shades of heroic sagas.
The rethinking of the songs of legendary bands completes this release - first, the Phantom (Korrozia Metalla Cover) darkens the musical essence and hardens the vocal sound, then the final composition of the album Where Dead Angels Lie (Dissection Cover) brings the spirit of a twilight symphony.