September 03, 2016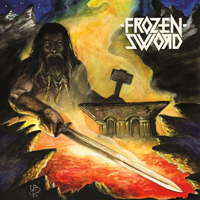 There are some knots that can not be unleashed - Frozen Sword - Frozen Sword can hew one of them to pieces!
Gentle quiet intro tactfully paves its path, hoping for Blessing Way. Then the sound track put on a armor suit, heavy metal jacet tinkling and clinking weighty swords at every step of its persistent march!
The title track Frozen Sword marks the significance of its existence with sharp and jagged guitar break - that's not a simple sword, it has a lot of unique applications - but only in the hands of the appropriate avatar, hero the chosen one. If it appears at the power of dreadful evil - that's horror and terror!
It starts as melancholy sorrowful confession ballad, then Heartless Warrior turns into a battle and warlike march and chants of soldiers, who have laid down their heads to the glory of high purpose and restless, until it reaches its fulfillment! Not for the King - they know their goal!
Shaman tells of the ancient Lelawala tribe with the beats of the tambourine. Then, it changes tone in the full despair, which emphasizes the embittered rage and anger instrumental accompaniment. Powerful dense instrumental parts ramping flesh for the epic saga, fills ballad sound with power and confidence!
Shepherd Of The Sea grazes his wards - but this is not a sheep in a meadow, and the winds and the waves in the seas!
After a brief starting preparation Crush The Shadow To Reborn breaks in runaway tug, slowing the pace only for emotional vocal phrases, blowing us through the thick centuries - to forgotten ancient ages.
Age does not go away - they will remain in the memory of generations forevermore, The Alpin Steel stand still eternaly. Acoustic guitar helps the Bard lead story his with its melodious calm strings. Next electro guitar add its riff to that ancient tune. Then the ancient melodies and motifs are transformed into a modern understanding, making it clear - that they will never be forgotten!