January 22, 2022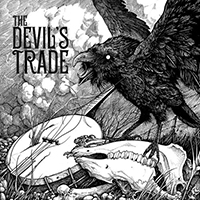 The musical brooding of the guitar solo begins the 1st part of the dilogy, I Can Slow Down Time, Pt. 1, which then will completes the The Devil's Trade - What Happened To The Little Blind Crow album with its 2nd part, I Can Slow Down Time, Pt. 2, begin this release with a clever and pensive guitar introduction, which will then serve as the basis for the development of the To An End bard saga, in which mysterious guitar passages will complement the sophisticated vocal narrative, slowly marching along the chosen musical path.
After the guitar solo of the introduction, the Your Own Hell song harshly, persistently and confidently pushes the vocal part to the forefront of the musical image, complementing the unyielding vocal emotions with turns of guitars chimes.
The sound of the Only As A Ghost composition pacifies and pacifies the severity of vocal emotions, bringing an atmosphere of musical romanticism with musical passages. continuing a similar pensiveness with notes of country style in the longer musical narrative of the St. James Hospital musical tale, combining sophisticated vocal reflections with soft guitar chords and complementing the main vocals with background singing.
The guitar solo of the No One Here bard fairy tale immediately weaves musically lace of the main motif, which covers and envelops vocals reflections, then bringing the vocal part to the foreground of the sound of the 12 To Die 6 To Rise composition, anticipating the second part of the album-opening dilogy, which will put the final point in this musical novel.