January 22, 2022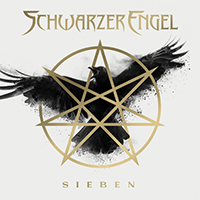 The VII track starts the musical narration with the atmosphere of mystery of music and vocals, then again and again voicing the name of the Schwarzer Engel - Sieben album in the chorus. The Kreuziget Mich song goes through a transparent haze of mystery, supplemented by the echoes of keyboards tunes of intriguing mystery and the unity of the vocal parts of different voices in the duet.
The keyboard suite of the introduction sets the direction for the development of the Teufel main motif, then augmented by a bright guitar solo and topped off with vocal parts that act as the forefront of the Paradies saddening romantic ballad.
The musical passages of the Ewig Leben song combine gothic motifs and industrial musical stylistics of a futuristic sound in a single musical whirlwind. The Wie viele Jahre romantic ballad charms with the unity of the charming melody and the vocal meditation in a single musical stream.
The Schlitzer mid-tempo musical march adds epic motifs and echoes of bardic ballads and battle marches to the sound of the album, bringing to the forefront of the Vollmond pensive composition the vocal part, wrapped in the shrouds of a musical atmospheric symphony.
Introducing echoes of dance music into the sound of the introduction, the Ring frei composition echoes the confident, persistent, and unyielding march of the valiant battle march. The Schonheit song returns to romantic musings, complementing the male vocals with the muffled chants of the singing lady, anticipating the thrilling sound of the Endzeit album's final musical track.