December 31, 2020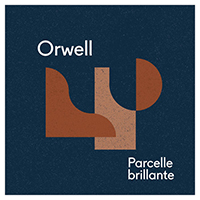 Romantic musical melodies of the Derivation track envelops melodic charm of instrumental artistry and soft tenderness. Then, slapping and tapping, the Jamais Assez continues the musical narration of the Orwell - Parcelle Brillante album, combining male and female vocals with enchanting musical passages in the vocal part. The Pourquoi Savoir ? continues the musical story with a gentle ballad with notes of French chanson.
The vocal part comes to the fore of the Les Mains De Bianca musical image, wrapped in symphonic musical lace. The Les Ondes song continues the vocal revelations, wrapping their tender reflections in sparkling musical coils. The violin and orchestral melodies of the instrumental bridges captivates with symphonic charm. The Lone track's music accentuates the main motive with pulsating rhythm, crowned with vocal tenderness. In the middle of the composition, a child's voice gives a certain sublimity to the sound. Subdued acoustic musical reflections provide the Rien Ne Pourra Me Rendre Sage backdrop for vocals revelations.
The sound of the Immature composition is built on the unity of a musical symphony and romantic communication between a guy and a girl in love. The L'etre En Toi continues the enchanting communication of male and female vocals, complementing each other. Dreamy musings of male vocals are highlighted in the Parcelle Brillante song, anticipating the sound of the Dors Encore final composition of the album.