July 02, 2022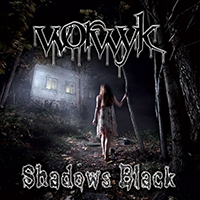 After preparing the bluntness, the music and vocals of the Gone And Forgotten composition roll in a wave of angry pressure. The Paths To Follow song continues the Worwyk - Shadows Black album's sound with the energetic pressure of a frantic musical drive and vocals wrath.
Anger, hatred and anger are combined in the unity of vocals and music of the Insecurity composition. The title track continues the Shadows Black album's sound with a brooding minstrel fairy tale and epic ballad.
After the Pathetic entry of the song musical hatred, drive and wrath, starts the Gallows Hill compositions vocals reflections, producing the Facelift song harsh soud ad vocals wrath. The guitar soared with a bright ascension then crowning the symphonic charm of the Occupy composition with vocal phrases. Further, the Malevolence song develops the musical position and the Stolen Innocence composition will complete the musical history of the album.