July 03, 2022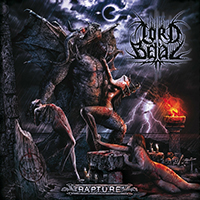 The furious drive of the verses is combined with the deep reflections of the choruses, weaving the musical lace of the Legion composition, the sound of which is transformed into a majestic procession of the On a Throne of Souls dark anthem, continuing the musical narrative of the Lord Belial - Rapture album with the ascension of twilight majesty.
The album's title track Rapture of Belial will develops the symphonic charm of dark spells, alternating unhurried vocal narratives with the rapid whirlwinds of dark symphonies of instrumental fragments with bright guitar solos and the twilight mystery of keyboard suites. The Destruction composition rolls a whirlwind of strenuous drive in the introduction, but the vocals bring rhythmic notes of a mid-tempo march to the sound.
The Belie All Gods twilight ballad fascinates with the sound of a mysterious symphony, behind which the assertive and confident sound of the Evil Incarnate battle arch marches rhythmically, powerfully and assertively. The Lux Luciferi composition speeds up the sound, crowning the passages of the musical drive with sparkling keyboard motifs. The chorus transforms the sound, marching in a mesmerizing spiritual symphony.
The enigmatic melodic musical passages of the introduction gain speed and drive, transforming into the Infinite Darkness and Death main motif, crowned with inspired vocals melodies. The Alpha and Omega march is marched by the twilight solemnity of the narrative of a dark fairy tale, which continues with the sound and stylistic shades of the Lamentations final composition of the album.