December 22, 2021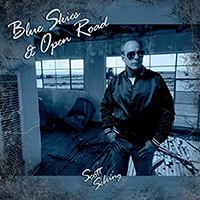 The title track opens the gates of the musical narrative of the Scott Sebring - Blue Skies & Open Road album with a wistful wistfulness, bringing the charm of melodic discoveries in keyboard passages of instrumental bridges. Guitar and vocals alternate to dominate the sound of the Not A Song Of Their Own song, bringing unity in the bright flash of the drive of the verse. The Nowhere At All romantic ballad brings to the sound of the album an atmosphere of thoughtfulness and inspired doubts.
Guitars and vocals combine in inspired echoes of epic legends in the sound of the Chasing My Rainbows musical tale. The They Live Through Us ballad captivates with the soft chime of the guitar passages and the emotionality of the vocal inspiration. The music of the introduction and the Wish Upon The Night main motif completes the sound of the album with symphonic atmosphere and musical grandeur.
The sound of the Long Ago song envelops an atmosphere of doubt and uncertainty - but the instrumental passages are enchanting and reassuring in their artistic sound. Guitar chime and musical drive captivate with rock'n'roll spirit and free romanticism, partly returning with the See Blue Skies Again title to the echoes of the title track. The Pecos' Last Sin song brings vocal variations to the forefront of the musical image. The Ride, Spirit, Ride romantic ballad brings a country-style atmosphere to the end of the album with hometown echoes.