December 22, 2021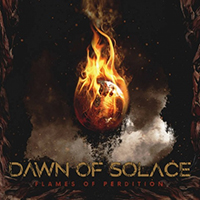 Musical romance combined with gentle vocal emotionality creates the atmosphere of the White Noise song. The intro guitar solo points the way for the development of the Erase main motif, taking you on an epic march through the haze of past memories. The Dawn Of Solace - Flames of Perdition title track enters with lofty meditations of the keyboard solo, introducing a brooding piano passages in an atmosphere of reflection.
The unhurried procession of meditations of the Dying Light song creates echoes of old memories and sad reflections, continuing and developing in a progressive musical direction the musical motifs in the passages of the Event Horizon composition.
Thickening and hardening the sound in the grandeur of the Black Shores dark anthem, the music and vocals unite in a confident and insistent march. The Skyline romantic ballad marches along the path of the leitmotif, marked by the guitar solo of the introduction and enveloping a haze of saddened romance. The acoustic guitar charms and intrigues with its sound in the Serenity intriguing instrumental guitar solo.
The Lead Wings (Studio Live Version) and Dead Air (Studio Live Version) tracks conclude this release with a reimagining and studio remastering of the band's past artworks.