April 18, 2022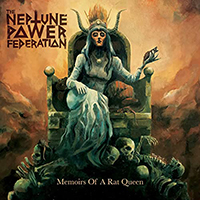 The melodies of mesmerizing chorales against the background of the development of the musical introduction of the Can You Dig composition anticipate its rhythmic and assertive sound, beginning the musical narrative of the The Neptune Power Federation - Memoirs Of A Rat Queen album with perseverance. The vocal chants of the singing lady elevate the sound of the Watch Our Masters Bleed song into a sphere of sky-high charm, then complementing the vocal inspiration with musical drive and its artistic variations.
After intriguing vocal exercises and reflections, the dancing sound of the Flying Incendiary Club For Subjugating Demons musical saga draws you into a playful flight through imaginary elements of mystical omens. The Rat Queen memoir, riddled with echoes of the hues of the album's title track, combines musical intensity with echoes of mysterious fairy tales.
An intriguing musical haze and muted vocal reflections build the foundation of the Bound For Hell musical story, which then rolls in gloomy waves of the main motif. The rhythmic intro of the I'll Make A Man Out Of You song pulsates with musical energy, elevating vocal narration to the crests of musical waves. Weaving a lace of musical covers, the Pagan Inclinations musical saga crowns this artistic procession with charismatic vocal phrases supported by chorales at the end of the fragments, anticipating the stylistic diversity of the The Reaper Comes For Thee final composition of the album, which ends with the full embodiment of symphonic musical motifs that began the album in the background.