April 17, 2022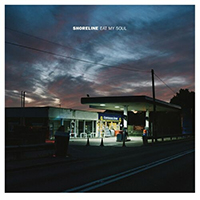 The captivating musical whirlwind of the Andre the Giant song crowns the vocal inspiration, then gives the Shoreline - Eat My Soul album a touch of atmosphere with the romantic echoes of the Hana and Bent / Broken songs.
The twilight mystery of the Thieves cryptic tale ends with the vocal ascension of the final solemnity, followed by the atmospheric charm of the sound of the What Sucks Is Now Hidden... ballad, which complements the main vocal with background vocal support.
After an intriguing introduction with a sparkling guitar solo, the Eat My Soul album's title track crowns the musical sound with vocal musings, anticipating the charming melodism of the sound of the Vanish song, enveloping the vocal musings with notes of rebellion with the charm of musical lace.
The main motif insistently, forcefully and irresistibly drives in the rhythmic pace of the sound of the Walking Through composition, then the charm of vocal discourses in romantic intrigue sets the direction of the charm of the Wasps & Flies musical fairy tale. Swiftness and drive of the Two Floors Beneath hurriedly chase imaginary temptations, ending the album with significant memories of the Sleepy Habits mid-tempo song.