September 08, 2019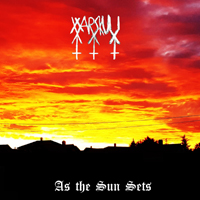 Inspirational As the Sun Sets Part I instrumental passages mesmerize with epic trends of northern tales, enveloping the listener with swirls of bewitching ghostly blizzards. The keyboards passages in the background unforgettably support the atmosphere of the main motive.
Keyboards notes reminiscent of the chorales of ancient spirits continue the Warskull - As the Sun Sets album, then the As the Sun Sets Part II composition is transformed by the majestic inspiration of an enchanting ballad and complements the musical passages with a distorted background whisper of vocals.
The chime of the bells ends with the mesmerizing charm of a romantic anthem, elevating the triumph of the northern reaches to the top of the universe. Then the music becomes hardened and incredibly tightens the rhythmic structure, but still returns to epic romance in the final part of the As the Sun Sets Part III composition, completing the main part of the album.
A certain bonus part of the release is an electronic cover for the Das Boot (Klaus Doldinger Cover) composition of a famous artist, enveloping rhythmic beats with the pulsation of electronic keyboard notes.