May 07, 2018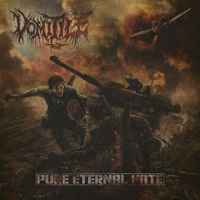 The vocals immediately spill furious hatred concentrate into us, starting the Vomitile - Pure Eternal Hate album with an unrestrained frenzy, setting in the bridge before the chorus the average tempo of the stubborn narrative, pounding the meaning of the Mass Extermination composition in the chorus firmly and confidently.
Unfolding the flywheel into the entry Pestilation is carried away in a violent rapid raid, slowing down the composition with the vocal reflections of the chorus, but immediately resuming the race in the next verse and bright instrumental solo.
So mysterious fog envelops the impetuous rush, hampering attempts to free himself from the Labeled Dead sign, the vocals knot with rage and anger, trying to break the fettering bonds.
It is playful and important to develop a story in a verse, instrumental bridges sweep doubts with a swift wave of sharp drive combined with the following verse. In the Glorify The Insane chorus, the solemnity and significance of the dark honors dispel the resistance of the dissenters.
Dimensionally, surely and irresistibly, the HateField severe march pacing at an average pace rolls on to an unknown goal with no fear or reproach.
The introduction hovers like a dark whirlwind in an obscure fog, tangling directions - rushing around vocal phrases, developing along with it a gloomy fog of To Deflesh song.
Unhurried, painful guitar motifs with a wise, unhurried step enter the mid-tempo waves of the Nothing But Painsong, rolling in a tight and confident narrative with the dominance of the vocal part.
The viscous melody painstakingly creeps into the Executioner Of Strength introductory motive, developing the composition as an important and meaningful march in the dark fog of the surrounding troubles and dangers. Starting with an uncontrollable rapid rusg, the pulsating energy and power moves to the chosen Soulskinner goal tightly and confidently, swirling the whirlwinds of guitar frills in rapid impulses again and again.
Accentuating the title with the very first phrase, Carnal Surgery complements the album as its brightest track , combining a tight and confident drive of couplets with the majestic and exciting melodies of instrumental bridges.