May 08, 2018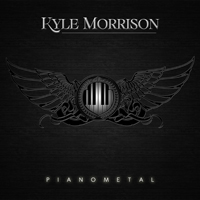 The sparkling fairy-tale motifs bring a wave of pensive melancholy, starting the Kyle Morrison - Pianometal album with a sensual instrumental romance, gently and thoughtfully wrapping the The Road To Eternity (Orchestral) musical image with the charming influence of classical music and bardic legends.
Keeping melody and fairy tale Mammoth (Instrumental) complements the album with power and drive, combining harsh and dense guitar riffs with powerful and tough rhythms of drums and bass, complementing them with dreamy motifs of the keyboard extravaganza.
Returning to the first track of the album The Road To Eternity realizes its sound more densely and significantly surrounding it with a magical sparkling tunel of instrumental parts.
Flags of natural elements flutter in mysterious fog of the Seasons intro, majestically enchanting with meditative reflections - but summing up the glittering majesty of an exciting musical exploration.
Beginning The Cosmos III - Interstellar Survival with a cosmic epic motifs bring the influence of futurism and ancient motifs, sweeping away in a rapid combination of symphonic keyboard and energetic power.
Rapid impulses take the alarming fears and expectations of gloomy prophecies in irresistible Eye Of The Storm passages, completing their incontinence with a majestic symphony of illusory hopes, anticipating the next breakthrough.
The rays of cosmic energy The Cosmos II - Orion's Curse pierces the musical canvas, the main motive embodied in the keyboard parts is first carried away in a swift drive, then pensively hovers with foggy choruses on the background.
Wrapping the mysterious haze into the introduction, Ocean Black song then rushes through an obscure haze, enveloped in the foam of sea waves. Then the keyboard part lifts the divine will to the light of the sun and the stars, let demonic mysteries resist it.
Returning back to the beginning, complementing the second composition Mammoth with demonic scream-growling male vocals and multifaceted female vocals, embodying nervousness, emotionality and sensuality.
The cosmic epic developed from the opposite - from the end to the beginning: The Cosmos I - Martian Dusk completes it, fascinated in rapid impulses, enveloped in bright exciting keyboard arts.
Discarding the divine revelations and prophecies of the righteous Hymn Of Blasphemy elevates his vivid musical temptations, with mysterious choruses against the backdrop of sweeping the abyss of symphonic revelations. In the final section of the composition, the wicked person pays for a while the church organ, flouting the instructions of the holy fathers.
Outbreaks of discoveries and hypotheses illuminate the Centrifuge rotating elements with flashes of knowledge and the mysteries of wisdom, expanding the horizons of science and the scope of research, suggesting more and more new discoveries and revelations.