May 04, 2021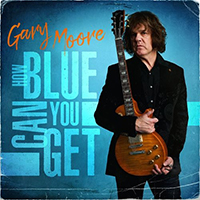 Bright and exciting guitar passes alternate with vocal doubts and indignations. In addition, the I'm Tore Down composition that opens the musical narration of the Gary Moore - How Blue Can You Get album crowned this musical unity by keyboard artistry, continuing to a similar tradition and in the Steppin' Out subsequent composition, giving a dominant role in the sound of the sound of a guitar solo.
Saddened romance sets the mood of the In My Dreams guitars solo intro, which is then supplemented with vocal thoughts, reminiscing about the lost feelings and experienced loss. The title composition How Blue Can You Get retains the blues musical style, somewhat pacifying bitterness of losses and giving shades future hopes.
But the memories are sometimes embodied in material objects, pictures, photos - what tells the Looking At Your Picture diverse song, that is brimming intriguing question. The Love Can Make A Fool Of You ballad again returns the atmosphere of sad romance, in which the trace of this artist remained - undoubtedly affecting the trace in our souls with romantic sadness and memorable guitar solo.
But the unity and interlacing of vocal inspection and guitar passages creates a stubborn musical picture of the Done Somebody Wrong track. Ends the release of the memory of the Living With The Blues vocals thoughtfulness of Gary Moore, which attaches additional shades the influence of musical passages.