January 10, 2022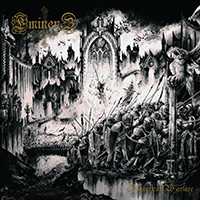 The dusky mystical mystique of the introduction envelops the atmosphere of obscurity, long and intriguingly prepared for the introduction of the vocal part of the title track of the EminenZ - Diabolical Warfare album, wrapped in mysterious echoes of guitars and keyboard variations. Then the instrumental part changes to the solemn mid-tempo procession of the twilight anthem of the chorus. Then the intro again creates a mysterious intrigue, further developing into the sound of a rebellious and unyielding Lucifer Awakening song. The instrumental part enchants with the sound of an epic tale with the tunes of a flute and a melodic musical charm.
The mysterious ringing of the bell ceases with a rolling shaft of persistent and insistent musical power, which is then supplemented by the significant vocal phrases of the First Renegade dark anthem. Once again the mysterious introduction creates an intriguing mystery, then continues with the procession of the Something Beyond mid-tempo march through an obscure twilight of mystical mystery and ghostly obscurity, then surging into a whirlwind of accelerated rush to return then to mid-tempo musical passage.
The chorales of the invisible fairies create a spellbinding, epic atmosphere for the Replica Satani intro, then rolling in with a shaft of somber but melodic musical tale. Slowly and mesmerizingly, The Myth of Non-Existence musical saga unwinds and gradually develops the flywheel of the main motif, enchanting then with melodic passages of instrumental bridges.
The noise of the distant wind and the cawing of the raven culminate in a pulsing breath of the Frozen Shadows musical mystery that anticipates the further introduction of the vocals with symphonic grandeur, creating with it a majestic musical background. The Doom Dominator epic saga concludes the album with a melodic musical tale topped with artistic keyboards suites.