January 10, 2022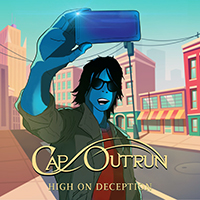 A whirlwind of artistic improvisation lifts above the cloudy haze of a dreary ordinariness, crowning this musical enchantment of the Crazy Enough song with an inspired vocal narrative. The Cap Outrun - High on Deception album's title track begins with a romantic suspense, then combines with the vocal part in an enchanting extravaganza of romantic dance.
A mesmerizing piano solo sets the main motif for the sound of the Disaster Mindset romantic ballad, combining in an enchanting sound with the wistful inspiration of the vocal phrases. The In the Shade of the Masquerade composition continues the inspired melodic sound, bringing touches of dreaminess and enchanting mystery to the musical variations that shroud the vocal part with so artistic veils.
The sound of the Shadows on the Wall song begins with a gentle and sensual guitar solo, pointing the way through a cryptic mystical haze, followed by mysterious vocal chants. The Our Brightest Day wistful ballad brings the vocal part of the enchanting tale to the forefront of the musical image, enveloping the background musical mystery of the vocal reflections.
The intriguing introduction is followed by the vocal part, softly and gently reflecting in the verse, accentuating the My Destination title again and again in the chorus. The breathtaking and unbelievably melodic sound of the Run Before We Walk song sometimes brings the vocal part to the forefront of the musical image, charming the guitar solo of the instrumental part, continuing the melodic charm with progressive musical variations and vocal reflections of the As Long as You Believe ballad, completing the musical novelty of the album with the Dopamine Overflow instrumental composition, creating a dreamlike musical atmosphere.