August 16, 2017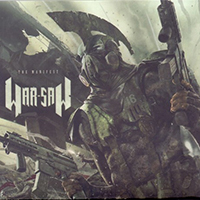 Starting War-Saw - The Manifest album with restrained riff, muffled in a gloomy fog - then Death Comes sweeps away the rest with whirlwind of violent motives. The sound is more rigid and gduboekoe, rather than peculiar to the style.
Next comes the Blood Honor Vendetta, starting again with so mysterious intro, then pulsating the main motifs path, winding the rage and anger around its axis. In this composition there is also muffled whisper, that broadcasts wise prophecy.
The Bleed Them Out squad does not stop for any resistance, rhythmically driving its tread into the chosen road.
The gloomy symphony manifests itself in the introduction of Deprived Of Decency, explosive drumroll stops the triumph of darkness. After swift transition, the composition selects an average pace for a story of its history.
After restrained and confidently the previous song, Black Painted Mind sweeps that impetuous impulse, embodying it in an unrestrained drive.
The announcer on the radio announces the threat of a nuclear strike. But no one wants to make the acquired things become dust. Rapid and violent couplets For Dust combined with a deep, confident and rolling chorus.
The following compositions Beast Outside, Fire In The Hole, Monstrosity complement each other - the style and manner of their sound are one and inseparable - they seem to form a trilogy. In her power and fury does not hurry and does not hurry, hard power strikes into the mind its arguments. Summarizes this confident, severe and clear fury Righteousness. The intro reminds classical piano music with inspired passages, but then the sound returns to concentrated power, but more complex and ornately embodies its ideas - brightly sparkling and sparkling instrumental passages twisting around the main motive.
Instrumental piano passage Still Hopeful, waltzing, completes the album - indicating that the hope was, is and will be forever and ever!