August 15, 2017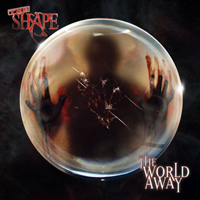 The obscure noise of the short Our Paradise Lost (Intro) begins the The Shape - The World Away album.
Tough, gloomy and frightening melodies performs The Devil In Your Eyes and combines with vocals, ornate and complexly writing out wondrous forts of clean style and furiously issuing screaming explosions.
Mouthbreather complement the sound with a clear and rigid rhythm, strengthening and solidifying the waves of drive. Then the vocals comes to the forefront of sound image, followed by a charming fascinating melodic guitar solo.
The furious tsunami of uncontrollable drive Decimation turns everything habitually upside down, swiftly and uncontrollably rushes to further discoveries. In the chorus, power despises speed, concentrating at leisurely pace.
Starting pensive reflections, Hope turns into lyrical, romantic ballad being supplemented from time to time malicious vocal phrases. Title track The World Away continues a romantic atmosphere, unfolding disgusted order on the shelves.
Brief reflections of the tired bard have combined into an acoustic guitar solo Cast Away, continuing into the Where The Sun Sleeps introduction, that becames as dreamy, soft and bewitching ballad. Poetry and romance continues in The Dark sound, vocal hardens its party a bit, adding to sensual harsha growling inclusions. So charming, captivating melody of the main motive carries away into the unexplored expanses of dark dreams.
Keeping all the same dreaminess, Lightning Rod complements the sound with the portion of drive, clearly marching along the chosen path.
A mysterious, ornate, uneasy The Bargain story carries away in a whirlwind of reflections, winding spiral of thoughts on an indefinite axis of the main motive. Search - maybe you'll find what you are looking for in next gentle ballad, Anathema. Calm sound tendering about all around as well.
In The Valley Of Lies continues the mood of the previous composition, bringing in an acoustic sound a bit of country-style.
The album closes with Circle 9 (The Desolate Ones), bringing a lot of unexpected music-making - mostly growling vocals or sensual calm deep clean, musically it can be attributed to the style doom, or even doom death metal genre. But later music takes a lot of hard drive, becoming ... something like techno thrash and then returns....there's no sense in wordy descriptions! You have need to listen that for your own opinin!