September 09, 2017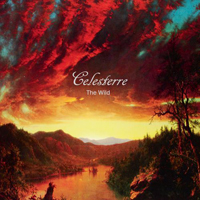 So thoughtful, mysterious and unpredictable composition Burst Into Life captivates in its stream of confessions, starting album Celesterre - The Wild with the uncontrollable burst out of thoughts and feelings.
The rhythmic march, clearly, confidently and rollingly puts forward musical ideas, but the Instinct vocals add nervousness ands feelings and emotions - creating such charming and memorable sound canvas, the musical image remaining forever and ever. Then in the instrumental part, music flows into the swamp of meditations, from which the female vocals try to extract the composition ... oh, I can write a lot - you need to listen to it at all!
Thoughtful musical images create an exciting picture, the ballad Ramfight At Sundown does not hurry to break out of such a memorable musical ideas. I understand it - so litten to again and again! But the music is swirling in a rapid explosion, creating a wave of drive, the vocals sometimes raise the key up to the falsetto.
Tough, restless experiences for the future being combines in the duet of female and male vocals in Endure The Cold music. Although, we will be honest, the man is superfluous - although this is only my opinion: they complement each other miraculously, adding their notes to the overall picture.
Title track The Wild performs pulsing picture, combining many styles - although the character of the battle hymn, raising the banner of battle over the heads of the overthrown enemies, remains the same.
After a variety of extravaganza, combining many styles, Hunger presents hard reflections, combined in the presentation of doom metal musical style. Ghosts of the Middle Ages, gloomy spirits, ancient legends .... oh, I'm rubbing my nose in old books ... but it's worth listening to!
Apparently, the group is not limited to one .. two, three musical styles - The Pecking Order combines many of them - a kind of presentation of an ancient bardic fairy tale in a modern manner.
A Celebration Of Decay.The diverse, revealing unexpected and charming transfiguration of vocals 1 completes the album, long, many-valued and unpredictably accomplishing various mysteries of musical ideas - again many styles, rhythms and thoughts are combined in an unpredictable combination. There is no point in describing - each of us have to listen that!