September 27, 2019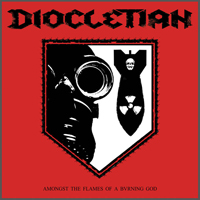 An explosion of unbridled rage and unstoppable drive begins the Diocletian - Amongst the Flames of a Burning God album, interlacing furious musical passages with indignation of vocal phrases. In the final part of the Nuclear Wolves composition, the drum roll calls for a militant march, setting the rhythmic path to the musical image.
Wrapping the intro with viscous guitar covers, then Degenerate Swarm weaves together gloomy musical passages and a frightening vocal part in a single musical stream. Continuing the style of the previous composition, the Repel the Attack musical passages fly away in an even more rapid drive, overtaking the thoughtful prophecies of vocal phrases.
The mysterious twilight sets a brief riddle, but then the gloomy whirlwinds of a furious drive sweep up by the whirlwinds of Berserker Rites deadly dance, entwining the listener with a cycle of guitar riffs and a furious vocal harsh. In the middle of the composition, the music transforms into meaningful marching of the gloomy march. Forcing swift waves of unbridled drive in the verse, Invincibility Through Strife in the chorus transforms into the dark grandeur of an epic fairy-tale darkness.
In the Procreate Strength dark saga, vocals comes into the intro, shrouded in the dark coverings of the whirlwinds of gloomy musical passages. Plundered by Hyenas continues the style of the previous composition, emphasizing the sound of musical darkness in a more rhythmic drive and complementing the vocal part with harsh and screaming shades. The epic symphony Restart Civilization, enveloping with bewitching fairy tales, becomes hardened with the introduction of vocals, completing the album with the unstoppable fury of an embittered drive, preserving certain shades of epic trends.