September 26, 2019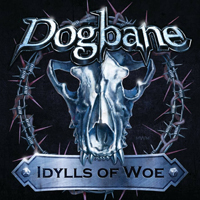 The Cup of epic inspiration raises the introduction of the The One I Was Warned Of song, the vocals are intertwined with musical passages in the interweaving of doubts.
The vocal goes to the forefront of the musical image, raising the banner of the Devil's Tramping Ground composition above all, and enveloping the chorus with gloomy urges, erecting the twilight veils of the Dogbane - Idylls Of Woe album.
Longtime tunes erect the walls of country style, then Blood In The Snow vocals and music are intertwined in painful tunes, braiding the perception of viscous speculation.
Intriguing to the introduction Riddle Of Steel intertwines the vocal phrases characteristic of doom metal and heavy metal music in a single musical narrative, in the instrumental part, surrendering to doom metal.
The painful and viscous narration of the Land Of Shadows song envelops in the gloomy covers of a mild dusk, enveloping in gloomy forebodings. Now You Know continues the musical narrative with a viscous and viscous march, further overshadowing and fettering the musical narrative in instrumental bridges. The howl of the wind calls for sleeping spirits and ghosts, then the Winter Of Man's Demise music calls for the malleable trends of ancient curses, echoing the mysterious predictions of ancient prophecies. The pulsating dance of restrained drive completes the album with Sin Eater song interweaving with vocal experiences.