February 23, 2017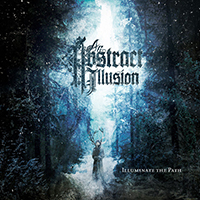 The variety of manifestations of unexpected features Abstract Illusion - Illuminate the Path leaves an unforgettable and enchanting impressions!
Mysterious passages keyboard recreates the magic atmosphere of Breathe Create Beauty illusion, impressing with mysterious intrigue before joining the rest of instruments in the beautiful instrumental album intro, it ends with cold northerly winds, they blows its icy breath, so making the transition into a powerful and driving Abode of a God, but the concentration of the instruments and growling vocals joining in no way reduces the fascinating melodies, enveloping us with its wonderful magic mist.
Debarred fantastic and fabulous keyboard passages creates an atmosphere of inaccessible space of dreamy cosmic galaxies, capable to Drop This Planet of Dust, bringing clean vocals to the forefront of sound image, growls complementing its chants from the background.
The title track stars with calm melodic intro, that sounds like promotion of desires, later the melody embodies in a powerful and stubborn guitar and keyboards feeds, vocals persistently demands to Illuminate the Path. But instrumental delights surrounds demanding vocal with variety of vagues and mysterious parties, creating a mysterious and inviting atmosphere.
Lifeless and soulless Vakuum presents so beautiful romantic ballad, combining the power of guitar riffs and growling with lyrical tenderness of keyboard motifs, leaving excitements and fascinating impressions.
Birds trill with pulsating rhythms merge in the instrumental Talvatis, which creates a pensive mood at the resting place before the Skeletons of Light, that combines different and conflicting music styles, powerful crushing ferocious riffs with fierce growl and melodic, dreamy romantic pieces with clean vocals. And over all this, like a disembodied spirits, soars intangible wonderful keyboards tunes - to imaginate all of us.
Rethinking the northern saga Svartesmeden Och Lundamyrstrollet ("Windir" cover), that combines the speed and rage with dreamy melody completes the entire album.