March 26, 2020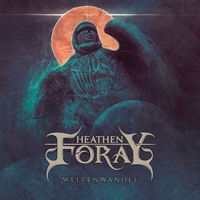 The pulsating power rolls with a severe shaft of rhythmic pulsation until the vocal comes in, lifting the vocal phrases to the top of the Schicksalsknecht musical image with the rhythmic beat of the hammer. The chorus is transformed by melodic inspiration, solemnly entwining vocal phrases with sparkling ribbons of musical greatness. The guitar solo of the Essenz introduction brings an integral part of northern folklore, setting the basic style of the Heathen Foray - Weltenwandel album. Then the vocals complement this musical essence with the stern confidence of the heroic saga.
Weaving a bewitching lace of musical shades of Viking folklore with the harsh power of metallic riffs Tanz begins with stern passages of the majestic anthem, then transforming into a rhythmic mid-tempo march. The bewitching melody of the Verfall epic ballad recalls the forgotten ancient epics, captivating the listener with a solemn procession of an incredibly melodic anthem. But then the vocals become hardened, complemented by the rhythmic pulsation of the musical passages, somewhat accelerating the tempo and condensing the musical narration. Wrapped around by the mesmerizing melody of the introduction, anticipating the explosion of a swift drive, Weg surrounds the body of a fierce musical thriller with a melodic extravaganza. Monolith again returns to the mystery of ancient chronicles, keeping the vocal narrative against the backdrop of the twilight fog of musical haze.
The mid-tempo combat march quite appropriately embodies the name of the Soldat composition, rolling in waves of the mid-tempo marching narrative. Concluding the album with the narrative of the Schlangengrube Viking saga, musical variations encircle medium-tempo vocal phrases with melodic charm and captivate the sparkling echoes of northern spirits in a fast-paced race.