February 28, 2017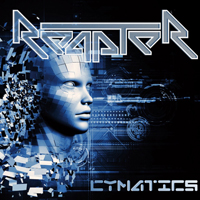 Severe passages and exciting melodies are gathered together in Reapter - Cymatics for all of us!
The album begins vividly, easily and emotionally with Repeat, main motive of which is so captivating and exciting. Sharply and swiftly Tsunami picks up the music stream, briskly rushing through the furious sounding. In the middle, the melody subsides and calms down, revealing a sad romanticism. But the violent impulse returns to complete the composition.
The motive ceases and slows down with Time Lapse, the clubs of gloomy riffs ramp up the pace again, splashing out the splashes of rage in the verse - and letting melodic sadness in the chorus nd completing the composition with a marvelous melody.
Bass solo starts The Alchemist tale, admitting the spirit of dark medieval times with the ghostly melodies of the forgotten dark ages. In the guitar solo weave a romantic melody that absorbed romanticism and expression.
Sharply and rolling Life and Horror marches along its path, rhythmically spreading the melodious pattern of its guises, vocals combines clean parts with rough harsh.
The sound gives way to gentle melodic ballad Behind a Mask giving the shades of sensual romance, softening the rigidity and furious heave in harsh vocal phrases. But then emotions speed up the pace, although leaving the melody above violent impulses. But the sensual ballad comes back to complete the composition.
The attack of romanticism has ended - rough Useless rage in a fast verse and a rolling growl of hard and tough chorus radiates the rays of hatred, illuminating space with a burning light.
Unhurried rigidity and harsh realism are embodied in a rhythmic Fallen Angels story, slowly and stubbornly stated by the vocal, then in the instrumental part the instruments are speeding up the pace, then returning to the usual tempo - then speed up again.
Playfully and quickly Tram Out music flies, as if piercing space with its riffs - but in the middle of the thickening of the paint and from time to time the viscous guitar breaks suspend rushes.
Viscous, pathetic and solemn Omega Revolution intro turns into cyclic vortexes of exciting instrumental saga, finishing the entire album.