January 26, 2023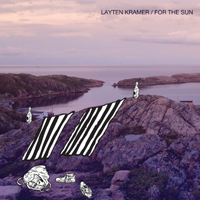 After the intriguing mystery of the introduction, the Layten Kramer - For the Sun album's title track rolls out the canvas of a leisurely romantic procession, enchanting with the pensive mystery of unhurried reflections, then driving the rhythmic pulsations of the stubborn Thin White Lies march with a confident step in the introduction, but then the vocal peace dispels the anxiety, complementing the male vocals with the charm of the phrases of the singing lady.
Preparing the listener with reflections of the vocal story in the verse of the Nowhere to Go song raises the banners of inspiration in the chorus, weaving male and female vocals in a duet of the vocal part, then crowning the song procession of melodic musical artistry of the Wine Song composition with vocal phrases, pushing the vocal part to the foreground of the musical image.
Echoes of mystical mysteries and folklore motifs are woven in the mysterious haze of the Shadows musical fairy tale, enchanted by the acoustic c hime of the guitar strings of the bard ballad, captivating with the enchanting melody of the inspired sound of the Lack of Love song, enchanting with the melodic ascension of musical artistry.
Enveloping the vocal story with sparkling veils of musical charm, the Deranged musical fairy tale raises musical artistry above ordinary events. The muted mystery of the Gold and the Sea acoustic ballad envelops with covers of romantic twilight, continuing a similar style in the musical story of the Time Is Here to Stay final composition of the album.