January 25, 2023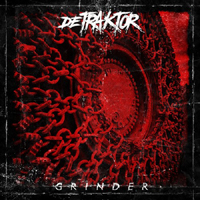 The energetic musical drive and daring vocal rebelliousness of the Parasita song opens the musical gates of the Detraktor - Grinder album with a powerful strike, again and again emphasizing the name with a chorus of musical companions in the chorus. Then the impatient rhythmic step of musical passages drives the rhythmic structure of the Not Many More composition into the chosen musical path, crowning this marching step with vocal phrases.
The powerful and furious drumbeat creates a rhythmic backdrop for the musical charm of the introduction, continuing with the deadly dance of the El Sunday brightest musical thriller, followed by the Pride proud speech that brings the vocal sermon to the forefront of the musical image.
A bright guitar solo weaves a sparkling lace of majestic introduction, anticipating the exciting passages of the artistic charm of the Let It Bitch instrumental composition, followed by the mysterious narrative of a twilight tale, repeating its Chupacabra name again and again in the chorus.
The title track of the Grinder album weaves the lace of the main motif in the introduction, then again and again transforming the rhythm and sound in an artistic musical quest in accordance with vocals changes. Listeners are especially fascinated by the melodic grandeur of the guitar solo of the instrumental part. Energetic drive and vocal rage are woven together in the exciting musical flow of the Rejekt thriller, beginning with the story of a wise old man the musical story of the Don't You Smoke That Weed Boy final composition of the album with shades of fair festivities and communication of friends in the tavern.