April 17, 2016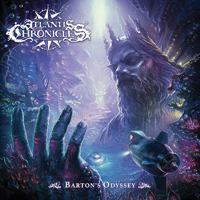 Atlantis Chronicles - Barton's Odyssey Started by the monologue, narrating stories omen, The Odysseus, viscous melodic riff and guitar modulations continues that into harsh and powerfuly-driving part with torns of rhythm and changeable instrumental patterns.
Mysteriously, but very briefly opens Otis Barton. Then solo guitar stay the most frontman-piece of sound image, another band stays on background on the whole track. Ends all by sad lonely monologue about the events of 1949...
Torn and impact starts Back To Hadatopia, then vocals calm instruments for its storytelling, but it can't calm they more then they want to. In middle melody overcomes that competition for a bit, then - instruments fury overcomes again 'till bridge.
Viscous, tough beginning of the Within The Massive Stream. Then pace tempo covers most of the track's pattern with their rhytms breaks and changeable instrumental flows...and organ ends this story.
1st chapter begins rapy 'n'furious Upwelling, Pt. 1, changin' by vocal doubts and melodic guitar incursions... almost quiet acoustics in the middle. A short burst of anger and a hard drive up to the end.
Short burst of powerfull blow starts chapter 2, Upwelling, Pt. 2. Than it changes between - burst of fury, monologue of confessing.
Blasted rhythm section, solo guitar on foreground of musical palette in Flight Of The Manta. Vocals loses its tries to overcome guitars here, guitars just gave them chanses pauses their burst of riffs. Guitars ompletes their triumph without overdriven sounds, yeah!
I, Atlas - rhythmic jerks are on their way without any rights to distraction from the path of ragged rhythm. You should go with them by their way, that's all!
Ragged way doesn't changed, it flows further into 50s 100w. Then it's more or less simplified vocal tells its story, but then everything goes back to the intermittent pulsing nature ... then - back and forth.
Solo bass ... for a couple of seconds! Melodic guitar, breaks the rhythm section, and then ... a powerful, piercing and sticky ballad A Modern Sailor's Countless Stories - drags for its flux, slowly-accelerating .... Can't protect themselves from this thread! no way! no way!... it finished by a few words! Good Luck!