April 16, 2016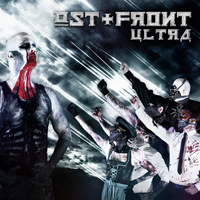 You have to be borned and go through all of your life, Sternenkinder! It's hard, difficult and short? You have to!
Without that ballad-style track Ost+Front - Ultra can't starts!
Detachment marching! Mother, relatives and girlfriends listen to Bruderherz: military boots - stomp-stomp! Clap, clap - blows into ground! But the song - that's what's going on the head of marching soldier - torn, broken confession torn, broken confession and thought - how everything has got to the point.
Not all favorite - not very, expected - or not especially women watched the march? Fiesta De Sexo(feat.Erk Aicrag Of Hocico) about them - in Spanish - lest they figured it! Melody of local tribes - how did drifted so far in Afrika?! Rommel knows, he's back to Europe allows! The estate near Vinnitsa, well! It's hard to wait - when I finally get it! Moldau, I sing my song under the old tune that the Czechs were singing about their homeland - Bedrich Smetana - Vltava.
You're unusual? All aroun can't understand, do not accept you? You're Kruppel. But it also happens - you realize - they are NOT!
The proclamation, confession, methodical'n'symphonic departure - that's just Suizid. Obtain - sign it! You don't like something?! Fick Dich! Or, maybe you don't care about all around?! Fick Dich! Or you want to delete my words from your mind... noup, there's no need to repeat that :)
Volkswagen everyone rides, every man can listen to Volksmusik! Jumpin', dansin'.... folksmusic! ...they done...
Blitzkrieg starts hurried'n'fast, then have reflected the world around - slow'n'vicious. Then, these changes follow each other - you should know, whos enslaved!
Melodic, calm start with hints of dance enters....then said - Nein! Well, slow dance with gothic overtones and folklore tunes continues the track...to the end of it.
Struggle of the classes was and will be FOREVER ... and to which belongs yourself? Klassenkampf asks you about thoughtfully, slowly - giving time to response in that way, musically and lyrically ending inquiry!
Lokin' for Siebenbaum? Oh, he far away or hiden person...or pet, or tree? Look for - and will find out!