June 21, 2021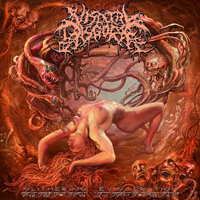 The title composition of the Visceral Disgorge - Slithering Evisceration album acts as instrumental intro, then retreating with its musical variability before the Fucked Into Oblivion vocals fury pressure. In the final fragment, the music and vocals pacify the frenzy, anticipating the echoes of mysterious doubts, however, the Architects Of Warping Flesh music and vocals again intertwined in an explosion of a frantic drive and unrestrained rage.
The vocal party stands to the forefront of the Saprogenic Deformation musical image, marching in the mid-tempo inspiration, then rushing in a rapid race for a musical drive, but focusing in the reflections of the Absorbed By The Swarm chorus. The Siphoning Cosmic Sentience composition focuses on vocal experiences, subordinating musical changes by vocal doubts.
The whirlwind of musical frenzy is completed by the progressive variability of the Necrotic Biogenesis rhythmic structure. The Spawn Of Putridity track rolls the medium-point musical canvas, sometimes being placed in fierce outbreaks of a musical drive with vocal frantist, changeable in the variations of the musical essence. The Transfixed In Torture completes the album by violent fury, which gives wind noise.