December 17, 2019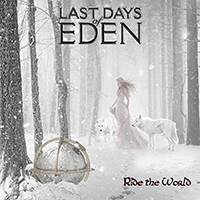 Meditations of the piano solo precede the development of the Invincible main motive, then sounds in the background and waiting for the introduction of vocals. The drum roll precedes the violins improvisations of the court minstrels that set the basis for the musical essence of the solemn anthem, that is honoring majestic Queen Of The North. Creating some twilight trends in the Bring Me The Night introduction, then the enchanting tunes of the singing lady offer inspirational sparks over the enveloping haze.
Latin choirs of adherents of the followers are completed by a sacred musical opus, transformed by militant guitar riffs, then bringing the vocal phrases of the singing lady to the forefront of the The Last Stand musical image, sometimes supplementing them with emotional cries of male vocals. The bewitching tunes of the singing fairy inspire the beginning of the introduction, which continues with echoes of fairy tales in the tunes of violins and ends with the embodiment of the title composition, complementing the Last Days Of Eden - Ride the World album with the charm of the male and female vocals and their alternation. The folklore influences of Celtic folklore inspire echoes of the ancient memory of the genus, complementing the musical passages with the charm of female vocals of the Land Of The Rain ballad. Then the Here Come The Wolves music becomes hardened, preserving, however, the bewitching melody and obvious folklore influences. Moonlight continues the medieval style with the charm of a minstrel ballad, sung by a noble maiden about her perceptions of the adventures of knights in her honor.
The Spell instrumental sacrament appears as the introduction of The Piper's Call composition, continuing its melodies, ending with the echoes of bagpipes creating an inspired charm in instrumental bridges and choruses. Then, transforming the introduction after screams of male vocals, the Paradise song is more variably and peculiarly reveals the essence of alternating male and female vocals, complementing significant vocal transformations with charming instrumental passages. Returning again to the folklore style Brothers In Arms honors in the tavern of the heroes of past wars, their exploits and victories. Preserving the stylistic akin to military and heroic themes, A Game Of War continues the album as if it were a separate creative release, combining in its sound an incredible variety of musical motifs and vocal variations. Into The Deepest Of My Mind completes the album with an acoustic lullaby, intertwining male and female vocals in a bewitching musical lace of a thoughtful symphony.