December 16, 2019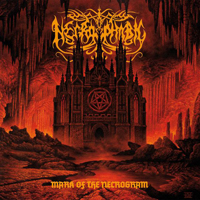 The title track begins the Necrophobic (SWE) - Mark Of The Necrogram album, flying away on the dark wings of rampant drive, but the introduction of vocals somewhat restrains the rampant fury of musical passages, but complements them with shades of their anger. But the obscure echoes of mystical traditions continues the album with the mystery of the Odium Caecum introduction, but with the introduction of vocals, the music intertwines the ideas of a furious drive, sometimes transforming in short instrumental bridges with mystical echoes.
Continuing the echoes of legends and fairy tales, Tsar Bomba envelops their trends with a tunnel of power and energy, weaving mysterious conjectures around a harsh drive. After the growing sound of the introduction, Lamashtu then rolls the epic canvas of the bewitching saga, enveloping the sophisticated vocal phrases with the ghostly swirls of guitar riffs. But the echoes of dark charms and gloomy prophecies elevate vocal phrases to the forefront of the Sacrosanct musical image, transforming into the grandeur of the dark anthem in the instrumental part, then complementing the guitar passages with vocal phrases and ending with an inspired guitar solo. The muffled motifs of the chime of the guitar strings weave a bewitching veil of intro, then complementing the procession of the main motive with the background. In the middle of the Pesta composition, the magical charms of the warlock by the muffled mystery create an epic charm.
The majestic mid-tempo anthem Requiem For A Dying Sun marches on the verge of a mid-tempo march, captivating and impressing with exciting melody. But already at the introduction Crown Of Horns creates a fighting spirit, calling for readiness for deadly fights and decisive fights, complementing vocal phrases with spicy influences of oriental musical motifs. Dark grandeur shrouds in charming melodies, setting the gloomy atmosphere of From The Great Above To The Great Below procession of dark beings carrying dark flags and walking for the triumph of evil and darkness. Undergangen closes the album with an instrumental ballad that continues the motifs of the previous song with the charm of the soft chime of guitar strings.