September 11, 2018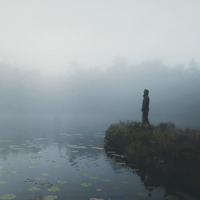 The Ofdrykkja - Irrfard album begins with a soft acoustic instrumental ballad, its title track. Hiding from the heavy rain and bad weather, the bard puts impressions and memories into the strings, anticipating the development of further musical ideas of this musical creation. Further, the melody of the title composition appears as a leitmotif of the concept album, En Vandrares Borda develops this melody, complementing with leisurely and important vocal phrases, full of emotions and experiences, as if the solution of these issues depends not only on the vocalist's life, but also the future of his native lands and the memory of his ancestors. A soft and gentle romance in the performance of acoustic guitars completes the composition with notes of thoughtful regret and charming sadness.
Beginning with a majestic brooding ballad Generations Of Hurt continues the outro mood of the previous composition. After a brief pause, the music concentrates the gloominess and aggravates the gloomy atmosphere, but with the introduction of the vocal, after long and leisurely musical reflections, it returns to a leisurely musical peace, contrasting with the nervous despair of the vocal. The bard's acoustic memories complete the composition, very well anticipating the introduction of the next En Fragmentarisk Resa Genom Tidsrymden, in which the vocal begins the narration already in the introduction, occasionally supplementing sensual and thoughtful music with his own phrases. But then the vocals become hardened, moving from pure style to creaky rattle, the music raises up tempo, but this rage ends with thoughtful musical reflections, hovering in unhurried whirlwinds of gloomy fog, in which fierce vocal zeals are slyly hidden in viscous musical fetters.
Starting with vocal confession Mother Earth, Devour Me, the music moves along the chosen path, slowly twisting in stubborn passages, completing the parts with stubborn pulsating waves. Vocal after confession indulges in despair and saddened experiences. Vocal confession precedes the melodic romance of the final part of the composition.
The Ungdomssar main motive changes along the chosen path, the vocals rush from side to side, looking for the right features and the right directions of development in the changing world. Then the music takes off in the drive wave, giving the composition those features that many expected from the album as a whole.
The atmosphere of the mysterious chime and the obscure melodies of the invisible spirits of the mysterious ancestors complete the album with a mysterious haze of instrumental composition Beneath A Starlit Sky, enveloping the mind with incredible peace and tranquility with an obscure mystery.