September 12, 2018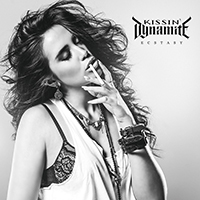 The Kissin' Dynamite - Ecstasy album begins full of confidence in the successful completion of any undertakings - statement I've Got the Fire inspires unquestioning confidence, promoting this statement at a confident average pace.
Inspiration inspires and brings confidence, especially vividly and unforgettably raising the main musical idea on the wings of the You're Not Alone chorus. The vocal in the verses stirs the interest, raising the main motif in the choruses again and again.
The opening sound of the intro remains in the background with the connection of vocal doubts and feelings in the verse. But in chorus, statement Somebody's Gotta Do It leaves no choice - these problems must be solved!
In the title track the dreamy male complements the sharp rebellion of female vocals, sounding more raw and hard, as if protesting against excessive softness and tenderness - Ecstasy does not tolerate any any kind of tenderness.
The romantic ballad, intertwining a marvelous ornament of emotions and experiences, iridescent with various shades of hope and inspiration, continues the album with the Still Around enchanting melodic composition.
Encouraging the chosen hero, the song asserts him that he is Superhuman, only he and no one else, and he is destined to save the world from impending danger, no one else can cope with such a mission.
The introduction and the verse intensify the gloomy mysteriousness, raising in the chorus Placebo discovery and a comprehensive confidence in the acquired knowledge. The sonorous, dense and harsh march Breaking the Silence is shrouded in waves of epic mystery, vocals changes from the gloomy narration of the verse to the ascended, inspired, majestic narration of the chorus.
Starting with vocal appeals, Waging War rolls in a rebellious wave, destroying the usual limits, then the music recedes into the background, bringing to the forefront vocal reflections, uniting with them together in the refrain.
Promises come to the forefront of the One More Time musical image, retreating in the explanations and then rising in confident statements.
The main part of the album is completed by Heart of Stone romantic ballad, starting with a dreamy guitar solo, then complementing its fabulous atmosphere with inspired vocal phrases. A very successful ballad turned out, twisted from the lace of romanticism and sensuality, wrapped in a charming canopy of fabulous shades.
The energetic and lively rock'n'roll atmosphere of Wild Wind (Bonus) song starts the album's bonus part, inspiring for change. The bonus part and the whole album are completed by the most powerful No Time to Wonder (Bonus) thriller, which, after playing in, was expected to be stern and tougher to hear - but it does not go beyond the stylistic framework set by the rest of the songs.