September 09, 2021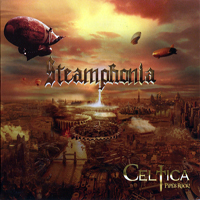 The title composition with an announcement of a speaker with an intriguing musical background that embodies the unity of folk motifs with a futuristic and technogenic atmosphere opens cryptic gates of the Celtica - Steamphonia conceptual album. Next, the Demon of Carbonium composition complements this unity of the drive of guitar riffs. Then the Harbour in the Sky saga complements the sound of epic shades of legends and fairy tales. The Telegram from Monsieur Verne track fascinates the sound in intro, then bringing the musical narration of classical music into the sound.
Artistic symphonic music of the Carmina Celtica composition complement the background choralas, then the violins suite goes to the forefront of The Iron Angel musical image. The sound of the Full Steam Ahead song rolling the waves of the unrestrained drive, crowned with enemas of folk motifs. The Nautilus Descending composition continues the stylistic framework of the previous track, but artistic and impressively varies the tempo and rhythm, wrecked the sound of violin passages.
The narrator announces the story of the Antarctica musical story. The Victoria's Desire composition intriguing enters, spouting the fascinating musical canvas of artistic symphony. Chorala again and re-announce the name of the Deus Ex Machina symphony. The main motive of the A Sinister Romance composition is fond of exciting adventures in the atmosphere of dreamy fairy tales. The Megawatt guitar solo continues the adventures and travel in the atmosphere of the majestic artistry. The Gateway to Utopia track completes the musical narration in the atmosphere of a melodic fairy tale.