July 18, 2019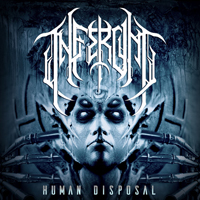 Brave, mysterious Decay into Madness restraint anticipates the further development of the Inferum - Human Disposal album. Surgical Schizophrenia begins with grim guitar riffs, continuing fascinating vocal cutters full of experiences. Further, screaming, growling and mystical musical flashes are intertwined in the vocal part.
The Autophagia intro explodes in a furious drive, then growling vocals squeeze musical shackles to a dense mid-tempo march, competing with guitar riffs in stiffness. From time to time, the rapid movement of a musical drive explodes with screaming vocals. The mystical enchanted ghostly wind gives the Paranormal Reality intro relocates the music to the atmosphere of mysticism, then similar passages interlace with demonic screaming vocals, intertwining in a mid-tempo march with growling.
Combining the average tempo with the musical trends of mystical revelations, Beyond Reach musical passages foreshadow ragged progressive rhythms of rhythmics, interlacing in a fascinating dance with vocal phrases. Locked-In preserves the style of the previous composition, transforming vocals phrases with more nervous emotionality and creating a more awesome background music.
The gloomy background of musical mysticism marches in procession in a pulsing, rhythmic march Pathogenic, it is continuing by so fascinating mysterious passage Interlude with an obscure background whisper, introducing the title composition of the album Human Disposal, the introduction and the main motive of which develops the motives laid down in the previous composition to the dark twilight anthem. An equally mysterious haze of obscure mysticism Mindbridge completes the album.