October 23, 2021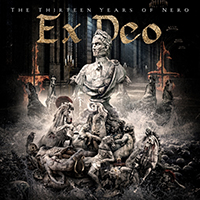 The Fall of Claudius begins with the speech of the emperor, the Ex Deo - The Thirteen Years Of Nero conceptual album dedicated to the former grandeur of the Roman Empire, then after some intrigue continuing the sound of a majestic processing of the Imperator composition, in which music with charming sparkles of oriental motives accompanies a significant procession of the vocal party. The Head of the Snake is immediately rushing in the stream of the rapid drive, but then the vocals and symphonic musical fragments and the elements vary the sound.
The furious and emotional vocals of the invited singing lady witchery transforms the sound of the album, giving the sound of Boudicca (Queen of the Iceni) (feat. Brittney Slayes) songs very peculiar vocals shades. The Britannia 9th at Comuldonum composition builds musical sound based on screaming and growling vocals alternation in the vocal party.
The Trial of the Gods (Intermezzo) instrumental symphony acts as a mysterious intro with intestinal chorales background, continuing with epic headings of The Fiddle & the Fire saga, in which there are notes and exhausting druid bard songs. After the gloomy mysteriousness of the intro, the Son of the Deified composition puts forward the vocal batch to the forefront of the musical image. Vocals and music of the What Artist Dies in Me... song is intertwined in the fascinating dance. The Revolt of Galba composition completes the conceptual album with the fascinating artistry of the union of vocal inspiration and musical symphony.