October 24, 2021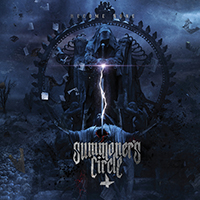 Mystical mystery of the Ex Terra ritual chants opens the musical gates of the Summoner's Circle - Become None album, continuing the variations of rhythm and various shades of the drive, supplemented in a music form of the Worm Tunnel song of a solemnity with vocals splendor.
In the procession of the Minotaur gloomy anthem with musical melodism, vocal variety is combined with charming, filling the main growling vocals with emotional screaming. Especially fascinating the melodic artistry of the guitar solo of the instrumental part and the progressive variety of the rhythm section. The diversity of sounding the Legion composition at first holds a confident path of the leitmotif, but then brings more and more new variations in the sound. The Become None title track combines a solemn procession of the main motive with the emotional significance of the vocals narration that combines several vocal styles. This impressive unity crowned the artistic aura of the symphonic keyboards melodism.
The symphonic instrumental In Ut Ambustio intro of the final part is fascinated by the union of the organ symphony and the charming melody of the guitar solo. The bright melody of the entry of the Balrog General composition is fascinated by the listener and sets the direction of development of the main motive in the vortex of the unity of guitar riffs and keypads. Then the vocals complements the musical essence of artistic variations of an emotional fairy tale.
The drum solo rolls the musical canvas of the sounding of the Overseer of the Internal Construct song, creating a hoping for the further development of the musical essence, crowned with the inspiration of vocals narration. Starting in the peculiar thought of the guitar solo, the Temple of Suffering is then transformed by inspired thoughts of pure vocals, but then again and again transforms the musical essence in addition to the variable vocal party combining the growling and screaming vocals. The Further into Dis completes the musical story of the album in an atmosphere of incredible solemnity of the dark anthem.